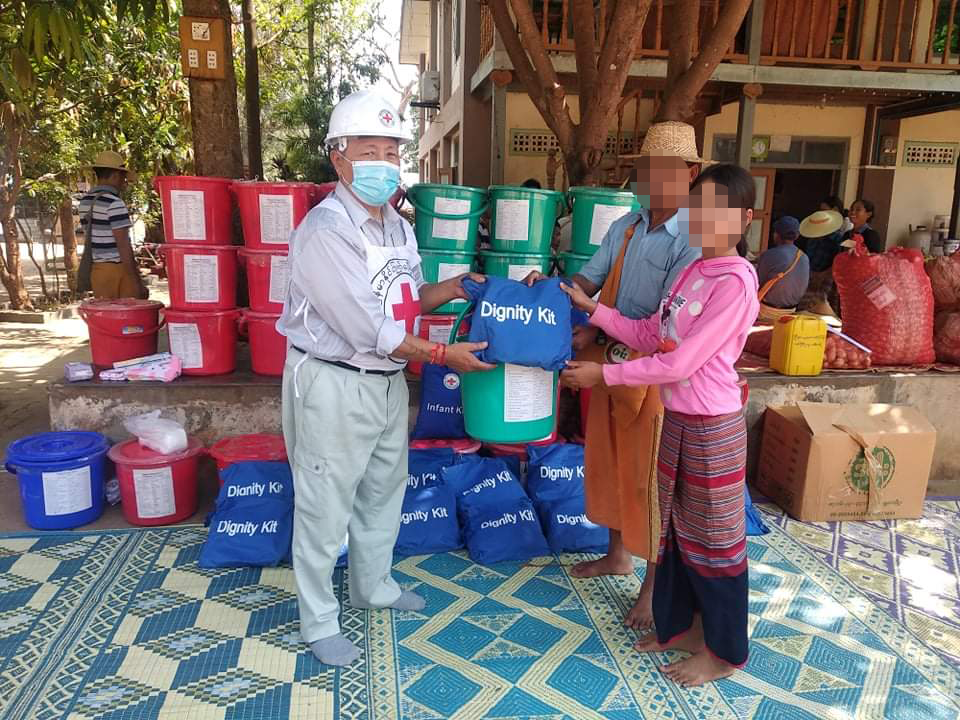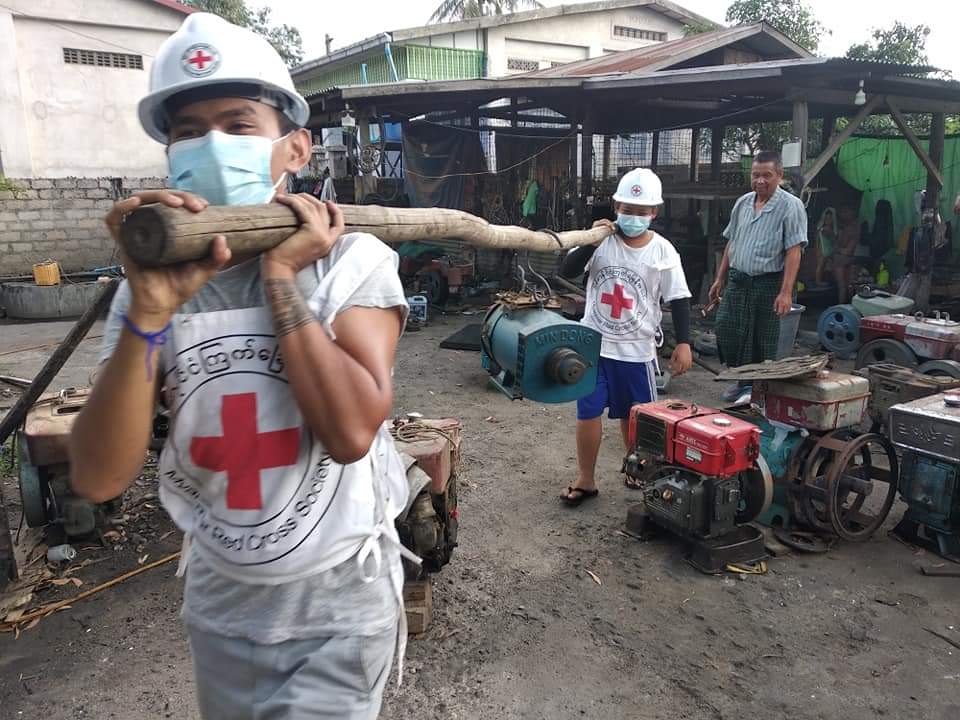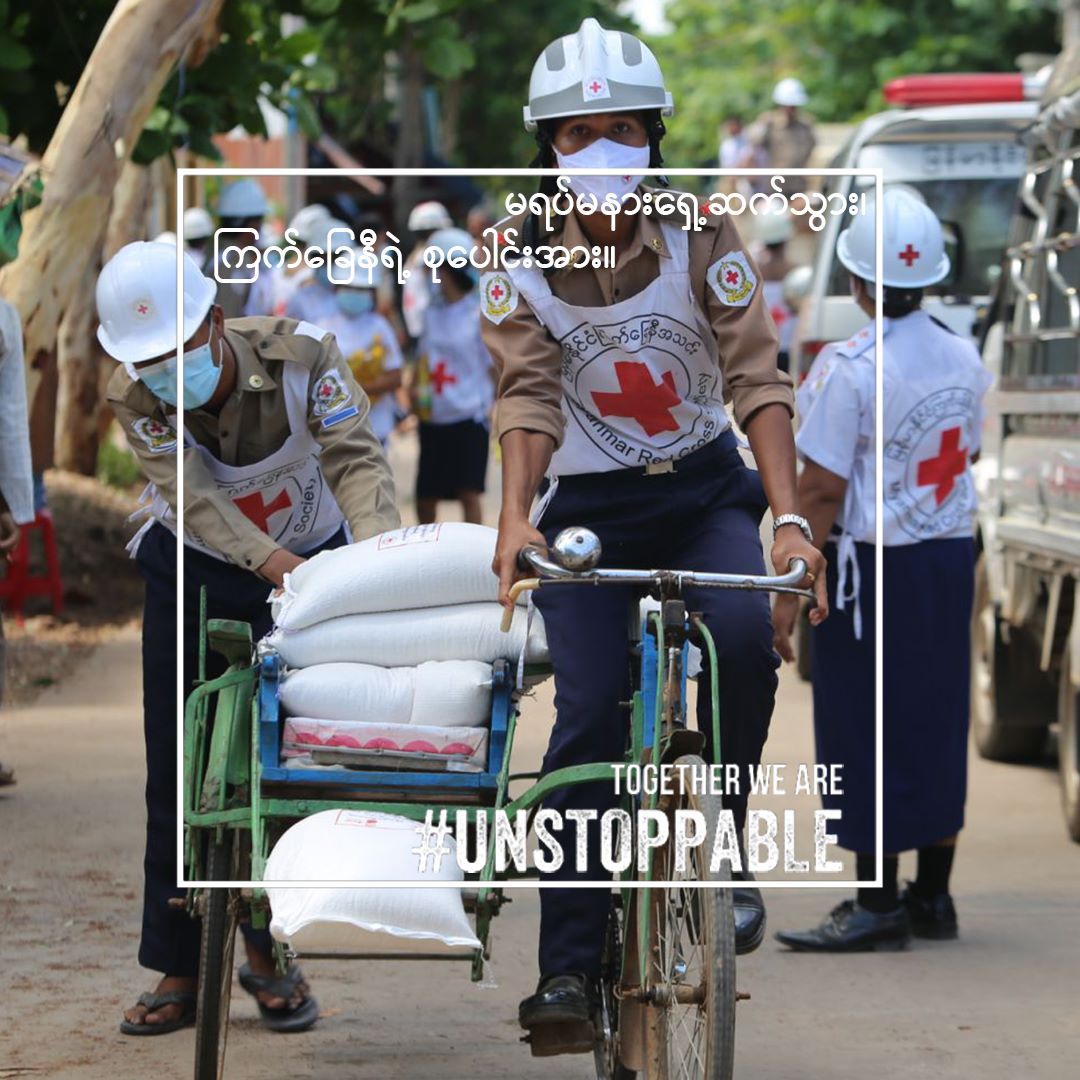 3
မေလ (၂၆) ရက်နေ့မှာ သီပေါမြို့နယ် ၄မိုင်ကုန်းမှာရှိတဲ့ IDP Camp က တိုက်ပွဲရှောင်ပြည်သူတွေ ရေနှင့်မီးရရှိနိုင်ရေးအတွက် ကြက်ခြေနီက အလှူရှင်နှင့် ချိတ်ဆက်ကာ 3KV ဒီဇယ်မီးစက်တစ်လုံး လှူဒါန်းပေးနိုင်ခဲ့ပြီး ရေနှင့်မီးရရှိအောင်လည်း ဆောင်ရွက်ပေးနိုင်ခဲ့ကြပါတယ်
01
မြန်မာနိုင်ငံကြက်ခြေနီအသင်းဟာ အလှူရှင်များ၏ ပူးပေါင်းပါဝင်မှုဖြင့် နေရပ်စွန့်ခွာပြည်သူများကို စိတ်ပိုင်းလူမှုပိုင်းဆိုင်ရာ အားပေးကူညီခြင်း၊ လိုအပ်တဲ့ အစားအသောက်၊ ဆေးဝါးနှင့် အသုံးအဆောင်ပစ္စည်းများ ထောက်ပံ့ကူညီလျက်ရှိပါတယ်
e03
မေလ (၂၆) ရက်နေ့မှာ သီပေါမြို့နယ် ၄မိုင်ကုန်းမှာရှိတဲ့ IDP Camp က တိုက်ပွဲရှောင်ပြည်သူတွေ ရေနှင့်မီးရရှိနိုင်ရေးအတွက် ကြက်ခြေနီက အလှူရှင်နှင့် ချိတ်ဆက်ကာ 3KV ဒီဇယ်မီးစက်တစ်လုံး လှူဒါန်းပေးနိုင်ခဲ့ပြီး ရေနှင့်မီးရရှိအောင်လည်း ဆောင်ရွက်ပေးနိုင်ခဲ့ကြပါတယ်
301
မရပ်မနားရှေ့ဆက်သွားကြက်ခြေနီရဲ့စုပေါင်းအား

Volunteers are the heart and soul of the Myanmar Red Cross.
Myanmar Red Cross collects blood donations for use in life-saving ....
The Myanmar Red Cross Society is one of the few organizations ...
Who We Are
As the leading and oldest humanitarian organization in Myanmar, the Myanmar Red Cross Society (MRCS) is committed to improving the health and well-being of vulnerable people. We began our operations in 1920 as a branch of the Indian Red Cross Society. After Burma formally separated from Indian in 1937, the Society obtained official, national status in 1939 and was admitted to the International Federation of Red Cross and Red Crescent Societies in 1946.
Read More
Myanmar Red Cross
Movement